This easy eggplant jerky recipe can be made in a dehydrator or the oven with the seasonings of your choice. It's perfect for snacking and even dog friendly!
This post may contain affiliate link(s). As an Amazon Associate, I earn from qualifying purchases.
Eggplant jerky is such a great healthy snack and couldn't be simpler to make. You don't even need a dehydrator for this simple recipe, it can also easily be made in the oven.
Both methods are provided depending on your preference. And the best part is the seasonings are completely customizable to your preferences.
Since dogs can eat eggplant, this can even be a great treat for them (when seasoned appropriately) in place of commercially manufactured treats.
When we make a batch, I'll usually do one tray of dog-friendly eggplant jerky and the rest for the humans of the house that way everyone gets some!
HOW TO CUT EGGPLANT TO MAKE JERKY
To get the perfect sized slice for jerky, you'll want to trim the ends off the eggplant first.
Then, quarter the eggplant lengthwise and slice each quarter thinly to create strips.
A mandolin isn't necessary but a sharp chef's knife and some concentration are helpful when slicing.
The eggplant should be about 1/4″ thick at very most but no thinner than about 1/8″.
If it's sliced too thick it'll take longer to dehydrate. Too thin and you'll end up with crispy edges in one spot with undercooked eggplant in others.
HOW TO MAKE EGGPLANT JERKY
To make the jerky, you can choose between two methods: using a dehydrator or using an oven.
HOW TO MAKE EGGPLANT JERKY IN THE OVEN
The oven method actually takes less time than a dehydrator because most ovens lowest temperature setting is around 175°F which is higher than a dehydrator's typical temperature.
For this reason alone, I usually choose the oven method and find no downside to the texture of the jerky in doing so.
Drizzle the eggplant slices with olive oil then season with salt, pepper and any other desired seasonings.
Place the seasoned eggplant on a wire rack on top of a baking sheet. Bake for 2-3 hours until crispy around the edges yet still somewhat pliable and soft in the middle.
Remove from oven and let cool before eating.
HOW TO MAKE EGGPLANT JERKY IN A DEHYDRATOR
To make the jerky in the dehydrator, season the same way then simply place the eggplant strips on the racks in the dehydrator in a single layer.
For my dehydrator, 3-4 hours at 135°F is usually the sweet spot for the texture I prefer.
This will vary depending upon your model and your preference for texture.
If you like the jerky extra crispy, it may take 4-5 hours. Start checking for doneness around the 3 hour mark and go from there.
SEASONING OPTIONS
If you're feeding any of the jerky to your dogs, stick with the basic olive oil, salt and pepper seasoning. You can even leave off the salt and pepper entirely.
Other dog-friendly spices that can be used in moderation are turmeric, cinnamon or rosemary.
Turmeric is a great anti-inflammatory spice and we use it in our turmeric roasted cauliflower we'll make for the dogs sometimes as well.
For humans, however, the seasoning options are endless.
Garlic powder is usually a given for our jerky recipes and then we'll usually either pair it with some heat in the form of smoked paprika or cayenne or, go in the herb direction with rosemary, oregano or basil.
Using sweet spices like cinnamon, nutmeg, cloves and cardamom is also (weirdly) delicious and sort of a fun way to enjoy the eggplant jerky too.
If choosing the sweet route, mix some maple syrup into olive oil in a small bowl and brush the eggplant with that mixture before seasoning and dehydrating. It's surprisingly delicious!
No matter how you choose to season it, I'm pretty sure you'll love this recipe for its simplicity and deliciousness.
It's a great snack, even better dipped in some hummus (or nut butter if you went sweet with it) and the pups will enjoy it just as much as the humans in the house!
If you like this recipe, you'll probably love these eggplant chips as well. They use baby eggplants, a dehydrator and more robust seasoning but it's a very similar recipe and concept.
Looking for a store bought jerky that's great for your pup instead? Salmon jerky is a great one-ingredient option as well. Find more information about it in this post about safe holiday foods for dogs.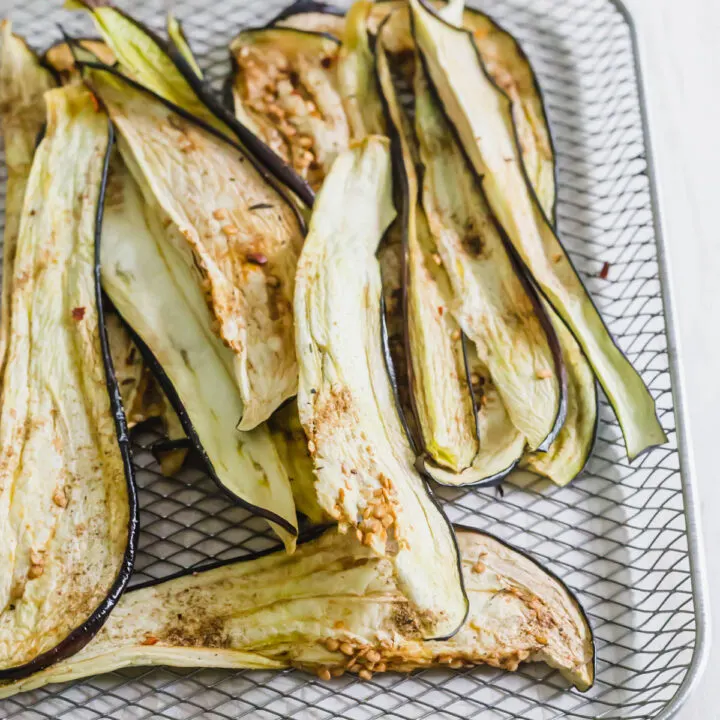 Eggplant Jerky
Cook Time:
4 hours
2 seconds
Total Time:
4 hours
10 minutes
2 seconds
This easy eggplant jerky recipe can be made in a dehydrator or the oven with the seasonings of your choice. It's even dog friendly!
Ingredients
1 large eggplant, ends trimmed, cut into quarters lengthwise then thinly sliced
2 tablespoons extra virgin olive oil
Kosher salt
black pepper
additional seasonings of choice
Instructions
Oven Method:
Preheat oven to 175°F.
Place a wire rack on top of a baking sheet.
Place eggplant on the rack in a single layer. Drizzle with olive oil and season with salt, pepper and any additional spices.
Place the baking sheet in the oven and bake for 2-3 hours until eggplant is dehydrated and starting to crisp around the edges.
Dehydrator Method:
Season eggplant slices with olive oil, salt, pepper and any additional spices.
Place the eggplant on the racks of a dehydrator in a single layer.
Dehydrate for up to 4 hours at 135°F or necessary length of time depending on dehydrator model until eggplant is crispy around edges yet still pliable and "chewy" in the middle.

Nutrition Information:
Yield:

4
Serving Size:

1
Amount Per Serving:
Calories:

121
Total Fat:

7g
Saturated Fat:

1g
Trans Fat:

0g
Unsaturated Fat:

6g
Cholesterol:

0mg
Sodium:

80mg
Carbohydrates:

15g
Fiber:

4g
Sugar:

5g
Protein:

1g
This website provides approximate nutrition information for convenience and as a courtesy only. Nutrition information can vary for a variety of reasons. For the most precise nutritional data use your preferred nutrition calculator based on the actual ingredients you used in the recipe.